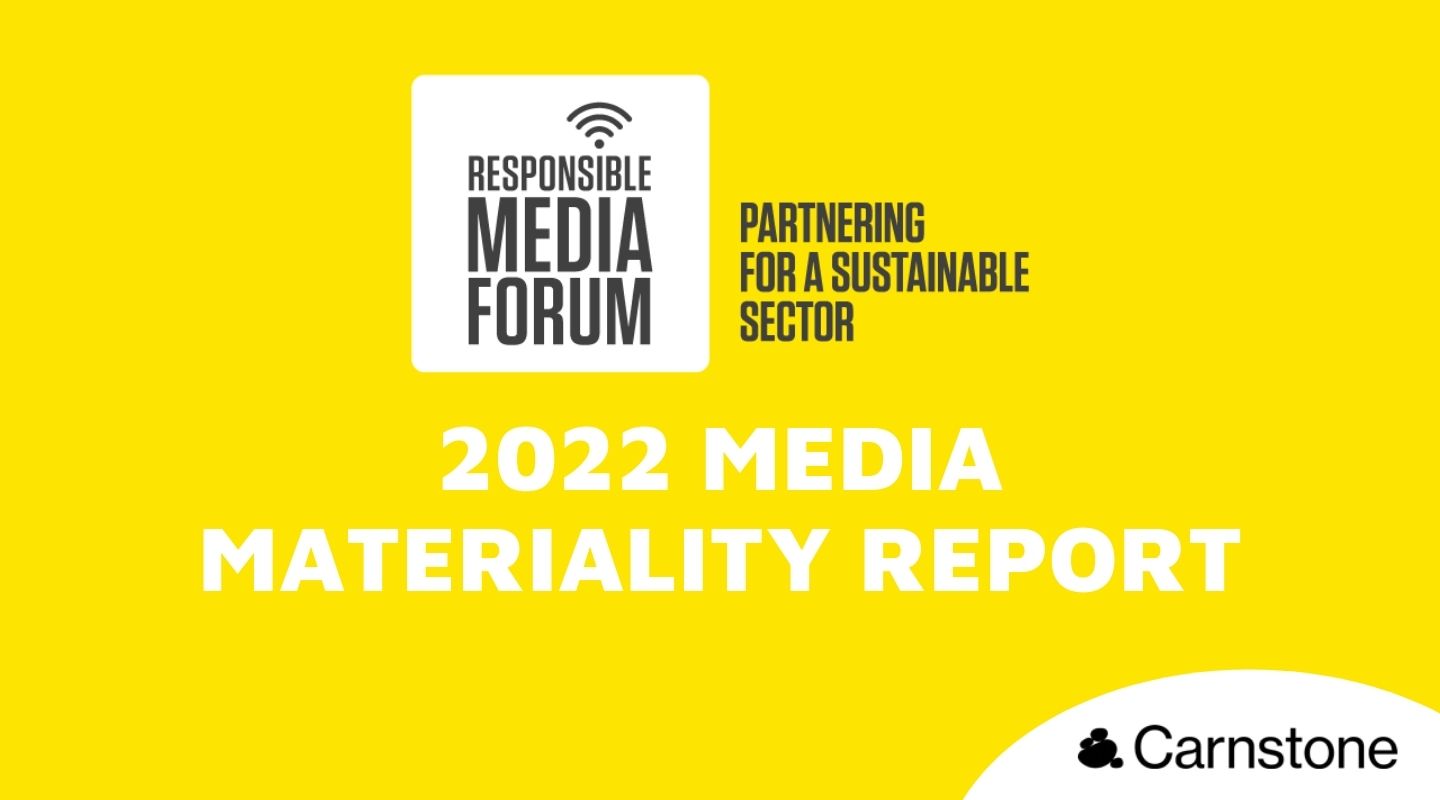 • The report aims to support media companies in understanding the material sustainability issues facing the sector today, and ensure their focus is aligned with the expectations and needs of their customers, employees and investors
• Climate change has risen to the top of the agenda for the media sector in the RMF's latest review of the materiality of sustainability issues facing the sector. It joins responsible content, diversity, equity and inclusion and data privacy and cybersecurity as the top five issues facing the sector.
*29 March 2022, London* – Responsible Media Forum (RMF), a partnership between 26 leading media companies to identify and act on the social and environmental challenges facing the sector, launch their Media Materiality Report for 2022.
Media is of paramount importance to resilient, democratic societies as the major source of information for the majority of the population; this places a heavy responsibility on media companies to adhere to a sector-specific moral code.
In recent times we have witnessed a heavy challenge to science and reality as the lines between fact and opinion have become more blurred than ever before. There have also been great societal changes over the last three years, not least with the COVID-19 pandemic, murder of George Floyd and increased global focus and efforts to tackle climate change. As society has become increasingly divided, media companies have a responsibility to not capitalise on the division, but instead do their part to mend what has been broken.
RMF's Media Materiality 2022 report comes in response to these societal shifts and aims to support media companies in their efforts to understand and tackle the major sustainability issues being faced by their sector. The report is based on a desk-based review of Environmental, Social & Governance (ESG) reporting frameworks, investor indices and recent materiality assessments, interviews with senior sustainability practitioners from media, and interviews with external experts. The report identifies the material, strategic, emerging and operational issues for the media sector.
It also identifies whether a particular issue is becoming more or less important and distinguishes new concerns, as well as opportunities. Offering a focus on the crucial issues of today at a time when topics like Responsible Content, Climate Change, Diversity, Equity & Inclusion, and Data Privacy have never been more important and in the public eye, this report offers a summary of the state of play on these important topics as well as guidance on where focus should be placed.
Having written five reports on materiality in the media sector since their founding in 2001, RMF are experts in this area and the release of this report is very exciting. Spokespeople from RMF and the United Nations Principles for Responsible Investment have commented positively on the report –
*Mr. Nathan FABIAN, Chief Responsible Investment Officer at United Nations Principles for Responsible Investment* said: "A healthy media ecosystem plays a crucial role in helping citizens decide who to vote for, consumers decide who to buy from, and investors decide who to invest in. No sector has more cultural relevance than media, and therefore the material sustainability issues that face media companies should be of paramount interest to consumers, investors and policymakers alike."
*Mr. Daniel WITTE, Partner Manager at Carnstone,* said: "Media plays a uniquely important role as we strive to deliver a more sustainable world in this decade of action as a storyteller, information provider, accountability mechanism and platform for connection. We hope this report is a useful snapshot of what issues are important for responsible media companies to manage in these dynamic and volatile times."
*Mrs. Anna LUNGLEY, Chief Sustainability Officer at Dentsu International, who supported the production of the report,* said: "Climate change has become the defining economic and social opportunity and challenge of our age. The media sector identifying it so clearly and prominently as a material issue is welcome, and needs to be matched by clear and progressive action. Two other issues stand out in the findings: the rise of consumer environmental awareness, and the emergence of sustainable value chains. Both demonstrate how no organisation can act alone on climate change, and that's why the RMF's report and continued cross sector collaboration is so important."
The Responsible Media Forum is a project run by Carnstone Partners Limited, a specialist management consultancy working globally at the intersection of sustainability and business strategy.