Alejandro Fiocco
Partner Manager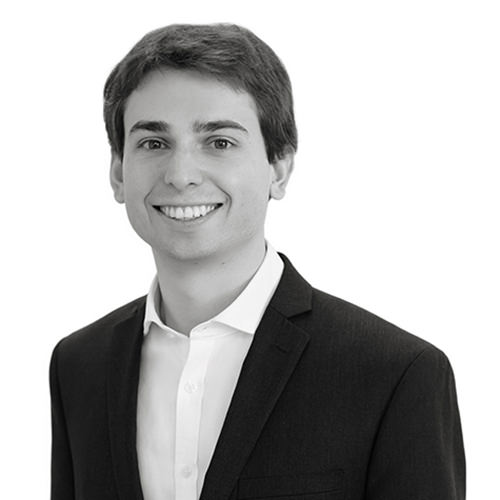 Joined 2018
Alejandro's expertise lies in research and in-depth data analysis. Thanks to his past experience working as an analyst in the mining industry in Peru, he understands the commercial side of running a business and the challenges that come with embedding sustainability in organisations. He has a background in industrial engineering focused on supply chain and management. Before joining Carnstone, he completed an MPhil in Engineering for Sustainable Development at Cambridge. Alejandro is fluent in Spanish.
Alejandro's Insights…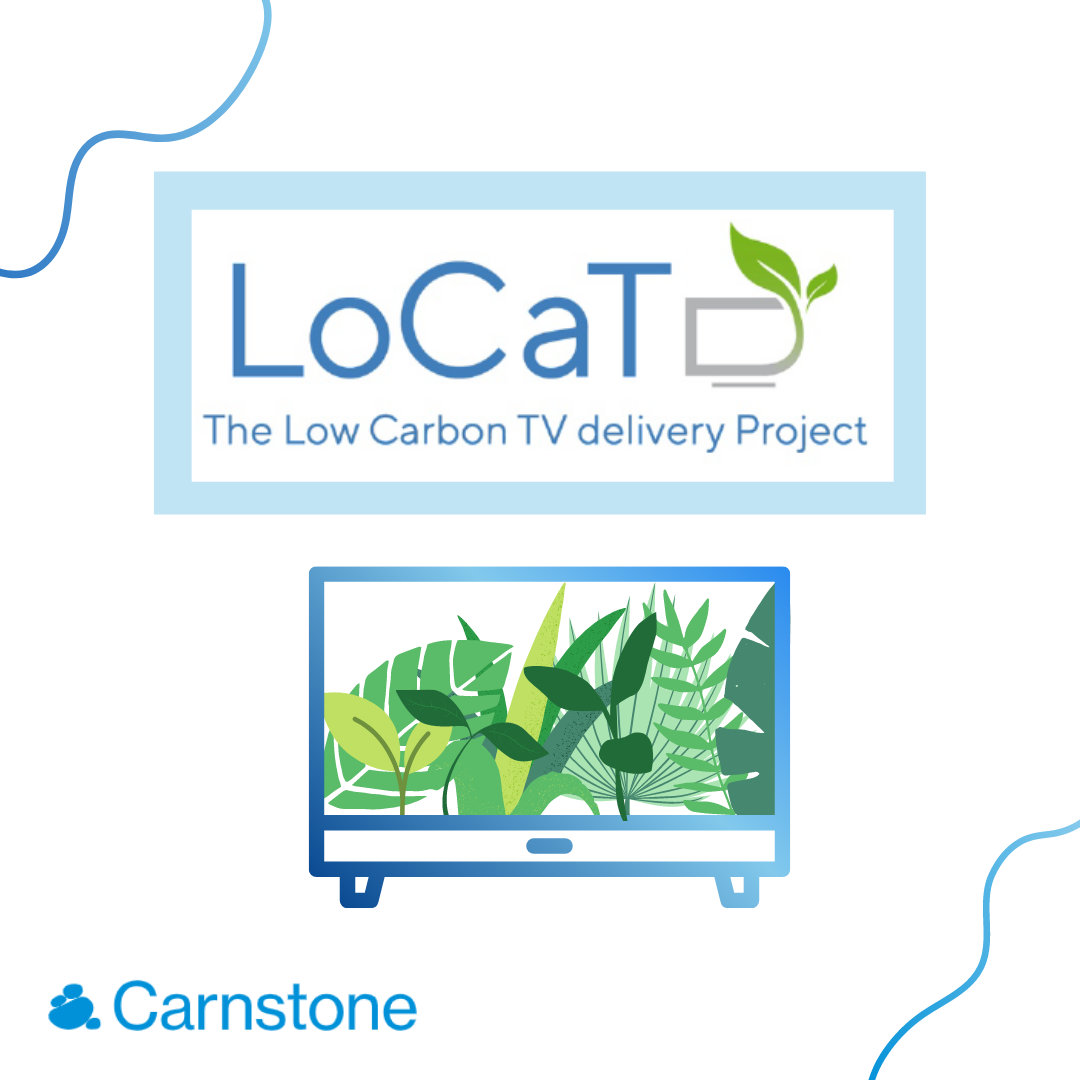 The LoCaT project's study has been released and we are thrilled to have been a part of this significant project, bringing together broadcasters from across Europe to analyse the energy consumption of different methods of watching TV – antennas, Freeview boxes, satellites and online apps.
We developed our own approach, in collaboration with leading academics in this area. We are pleased that the findings from our independent methodology was aligned with other studies in this area, whilst also providing some unique perspectives. We are very proud to have been a part of it and are excited to finally share the findings with you!
The bottom line is that, for individual viewers, the emissions per hour across all viewing methods are still quite small when compared with other every day activities like driving to the shops. When you're comparing delivery methods of TV content, the many-to-one distribution of terrestrial TV comes out most efficient when compared to linear TV distributed over the internet. What's still to be explored is the consequential effects of significant increase in internet traffic from viewing TV will affect the internet energy consumption in the longer-term.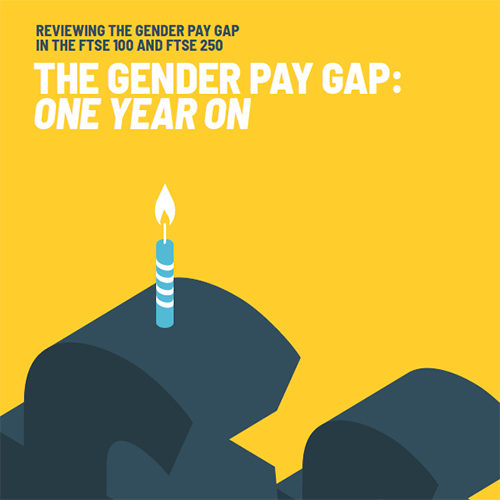 In 2018 Carnstone analysed the first round of Gender Pay Gap reporting from the 350 largest listed UK companies. We have repeated and updated that analysis for 2019, again producing simple comparison tables for the FTSE 100 and FTSE 250, and again comparing companies on a sectoral basis.
Want to know who has the largest or smallest gap in your sector? This report collates the mean and median gaps, the mandatory quartile data and boils it all down into a simple single-figure rating.
Our 2018 report was widely used by HR and Governance teams wanting to know how they compared against peers. So this year, we have expanded the basic data with an analysis of the biggest movers; those companies reporting the largest rises or falls in their data, and their quoted reasons for the change.
Lastly, the report also contains some initial modelling work to try and link data to cause, by exploring some of the most common drivers of gender pay inequality and investigating the tell-tale signatures they might leave in company data.
Alejandro in our news section…
Report on the largest survey on purchasing practices published by ACT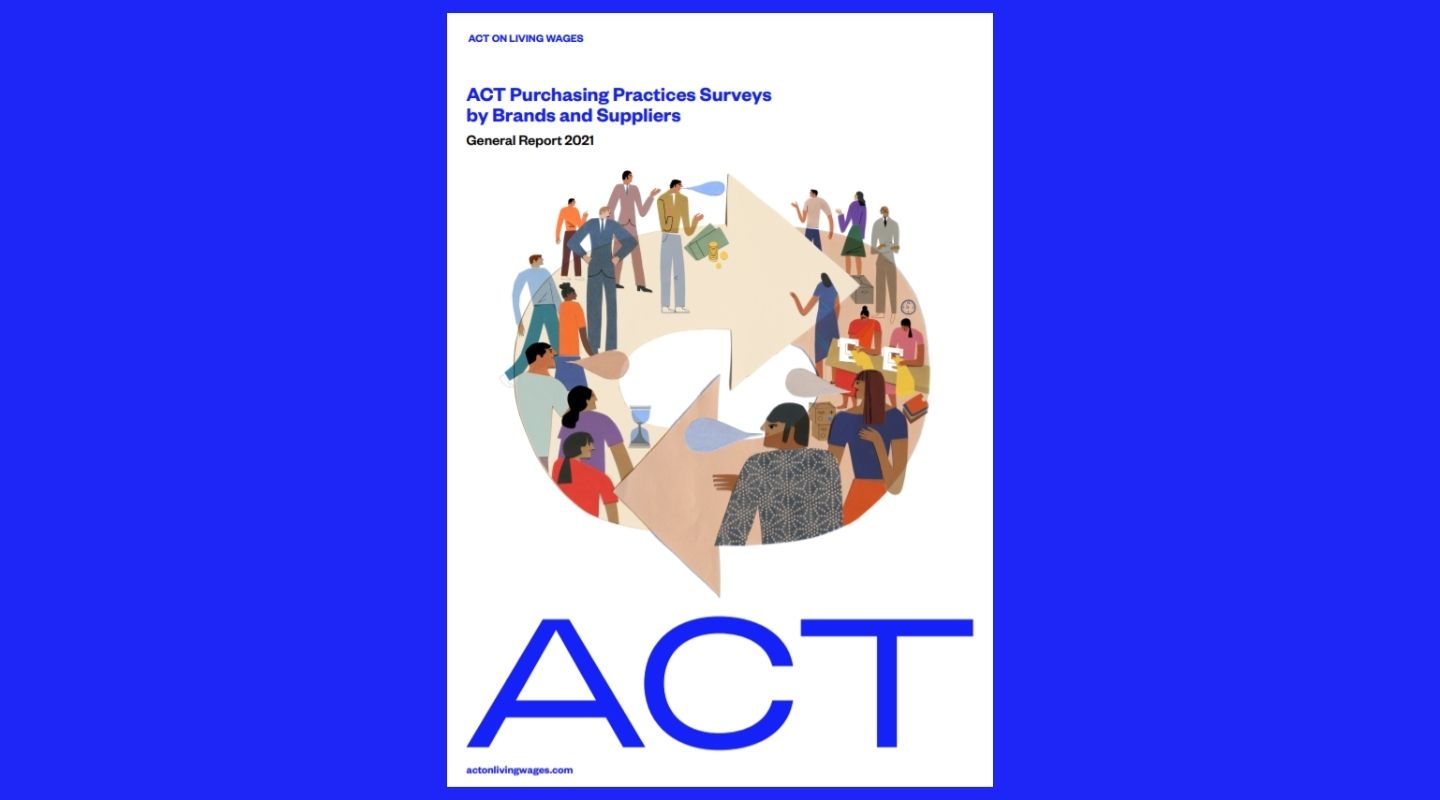 ACT has just published a report on the largest survey ever carried out with suppliers and brand employees on purchasing practices, and we are so proud to have been involved.
With over 1,300 suppliers and 1,800 brand employees taking part, the anonymous survey covers all key garment manufacturing countries and is a hugely important piece of research, marking a significant contribution to understanding the state of play for purchasing practices in the global garment, textile and footwear industry.
The report offers an assessment of the purchasing practices of some of the world's biggest fashion and retail brands and shows how the brands involved are making good progress against the ACT Commitments. It also shows the need for much greater education and awareness building, within both brand employees and suppliers, to support continued improvement, and highlights the conditions needed to ensure a living wage is paid to workers in the global garment and footwear supply chain.
Carnstone developed the survey platform and analysed and reported on the data gathered, these are the largest surveys into the purchasing practices of major international brands and retailers carried out to date.
John Lewis Partnership Better Jobs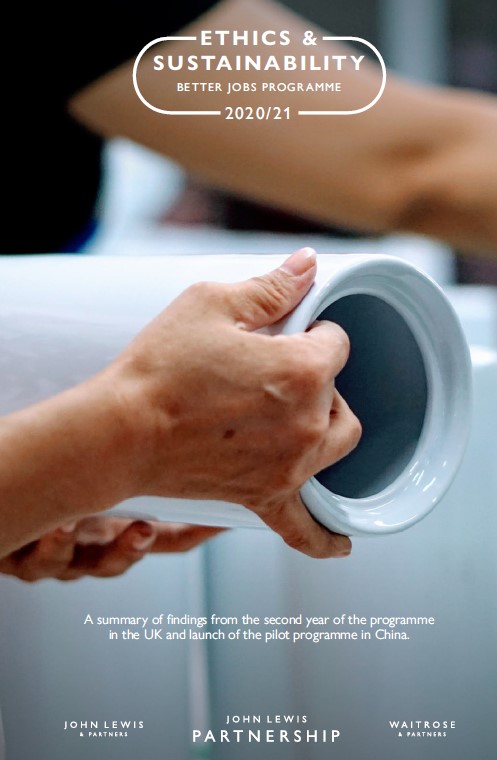 The John Lewis Partnership Better Jobs Programme was designed to support JLP suppliers to build better jobs for the people that make their products.
The Better Jobs Programme consists of two parts: a framework that helps suppliers think about the ways they support, engage and reward their employees, and the World of Work Survey that captures the views of the employees themselves.
2020 was the second year of the programme and 45 suppliers took part, with over 1,800 responses to the World of Work Survey. This means that since inception, 52 suppliers have taken part in the framework and over 2,600 survey responses have been collected.
The programme was also piloted with 15 suppliers in China this year. Those 15 suppliers had an excellent response rate to the survey, with almost 3,000 employees taking part.
We are extremely proud to have supported the John Lewis Partnership with the Better Jobs Programme since the beginning.
To find out some of the key findings from the Better Jobs Programme in both the UK and China this year, please click here.
Helping John Lewis develop Better Jobs
John Lewis' Better Jobs programme aims to promote better jobs for the people involved in making their products. Over the last couple of years, we have supported John Lewis to engage with their suppliers and deliver the Better Jobs programme. We are very proud to see the programme is developing and rapidly growing, with the results for the first year showing the tangible impact it has had in promoting higher quality jobs.
In 2019, 23 UK suppliers (with a sample size of over 800 workers) took part. For 2020, John Lewis is extending it to a wider base of their UK suppliers and will aim to roll out the programme in over 20 factories in China.
Through an online portal, John Lewis' suppliers can access guidance and dedicated resources on their new Better Jobs framework, which covers seven areas:
Voice – 'We want the people who make our products to be empowered to voice their opinions, ideas and concerns.'
Growth – 'We want the people who make our products to have the opportunity to progress.'
Reward – 'We want people who make our products to be appropriately rewarded through pay, benefits and recognition.'
Security – 'We want the people who make our products to have security within their role.'
Job design – 'We want the people who make our products to feel a sense of autonomy within their role.'
Respect – 'We want the people who make our products to feel respected by others.'
Health & wellbeing – 'We want the people who make our products to feel well and safe.'
The programme has been covered widely by the trade press, including articles in Drapers and the Retail Bulletin